It is a specialty which uses minimally invasive and image-based technologies/procedures for the diagnosis and treatment of, diseases of blood vessels of the brain and spinal cord (Neurovascular diseases). These include paralytic strokes, brain emotional support dog letter aneurysms and malformations (AVM's) of blood vessels supplying the brain and spinal cord; using Coiling, Stenting, and Embolizations.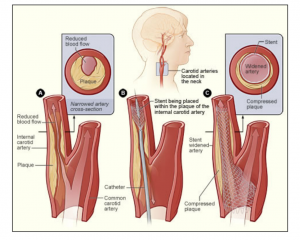 Carotid stenting offers an effective means of reestablishing normal blood flow through blocked carotid arteries. It is similar to the Coronary (Heart) stenting.
A stent is a slender metal-mesh tube that can be placed inside an artery to keep the artery open and allow blood to flow past plaque blockages.
Cerebral arteriovenous malformation
Is a abnormal cluster of arteries and veins. It can cause epileptic fits or brain hemorrhage.
There are three modalities of treating AVM
1. Endovascular embolization
2. Surgery
3. Radiosurgery